New Campaign - 40 Days of Prayer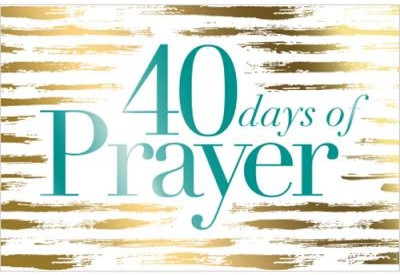 Aim of the Campaign
40 Days of Prayer is a church-wide campaign that will unite your congregation in prayer. Your people will learn how to pray with more confidence and greater faith than ever before.
Most people in your church are struggling with a difficult situation or circumstance. They need a breakthrough in their life. It may be a breakthrough in their marriage, health, finances, job, or an important relationship.
Breakthroughs always begin with prayer
Throughout this campaign, your church will:
Learn to pray for breakthroughs
Develop a daily habit of prayer
Grow your attendance
Unify your congregation
Experience God's blessings
The lessons in 40 Days of Prayer will help your congregation pray persistently and trust God for everything.
Action
You now have two alternatives for ordering your 40 Days of Prayer resources:
Option 1. Direct access to all campaign resources through this web site:
You do not have to register and you can choose the resources you need for your church campaign, small group or personal study. All resources will be priced as shown plus post and packing.
SIMPLY CLICK THE RESOURCES BUTTON AT THE TOP OF THIS PAGE AND CHOOSE YOUR RESOURCES.
Option 2. Register for a campaign and receive the following additional benefits:
Receive the full Campaign Starter Kit (See content details below)
Receive our support and experience in helping you to run your campaign
Cost of registration and Campaign Preview Kit: £70.00
TO REGISTER COMPLETE THE REGISTRATION FORM BELOW OR PRINT OUT AND RETURN A PAPER FORM. WE WILL SEND YOU YOUR CAMPAIGN STARTER KIT.

What's in the 40 Days of Prayer Campaign Starter Kit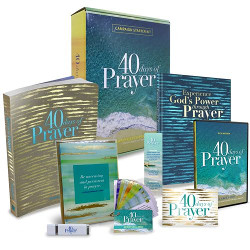 This 40 Days of Prayer Campaign Starter Kit contains examples of all the materials your church members and small groups will need to participate in this Campaign.
The lessons in 40 Days of Prayer will help your congregation pray persistently and trust God for everything.
The Campaign Starter Kit includes:
40 Days of Prayer Small Group DVD: Includes 6 different 25- to 35-minute video messages for small group study, Sunday school, or adult education class. Also includes the BONUS lesson, "Why Doesn't God Always Answer the First Time I Pray?"
40 Days of Prayer Workbook: This all-in-one workbook is the hub of engagement for your participants during the campaign! The workbook contains the study guide for each small group lesson, daily prayer prompts throughout the campaign, space for weekly sermon notes, and suggestions for further study.
Experience God's Power Through Prayer: This follow-up experience to the 40 Days of Prayer campaign serves as an effective tool for your participants to continue to grow in the lessons taught throughout the campaign.
Additional Campaign Resources on Flash Drive: Contains tools to help you customize the campaign specifically for your church like 40 Days of Prayer logos, web banners, and more!
Free Downloadable 40 Days of Prayer Sermon Series: Series taught by Pastor Rick.
Campaign Poster, Bookmark, and Sticker: Sample, ancillary campaign materials to help promote the campaign throughout your church body, as well as keep the campaign top-of-mind as your participants learn life-changing prayer habits.
Additional Information
Churches have the option to customise their implementation of the campaign by choosing the resources they need. We would however strongly recommend that churches register and complete the full campaign for maximum impact. The power and impact of the Campaign is best captured by the principle of "multiple reinforcement." This means that the themes of the Campaign are reinforced by layering the same message as it is repeated from several perspectives: the Weekend Services, the weekly Bible Studies, the daily personal readings, and the weekly memory verse. All of these are essential to experience the full power of the Campaign. To extract any of the pieces means you minimize the impact.

Churches can team up with other churches but should still register as separate centres to help us with co-ordination and support.

All church sizes can complete a campaign. We have had small churches, as low as fifteen members; successfully complete previous 40 Days campaigns.